Update: New COVID-19 Vaccine Clinics To Begin This Weekend In Tuolumne County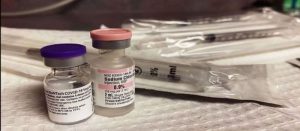 COVID-19 vaccine

View Photo
Update at 12:44 p.m.:  After inquiries from Clarke Broadcasting, Adventist Health Sonora updated that all appointment for this weekend's clinic have been filled less than a day after it was announced.
In a written release Adventist Health Sonora Communication Manager Karen O'Brien relayed, "The community has responded quickly and all 980 appointments have now been filled. A waitlist is available. If appointments become available, clinic staff will call individuals on the waitlist in the order their names were received."
The online site is now closed for appointments, but signups for the waitlist are available. As earlier reported, in the 75 and older age range there area around 6,000 Tuolumne County residents requiring more than two days of  vaccine clinics to complete. Hospital officials add, "Adventist Health Sonora will be coordinating ongoing vaccination clinics, with the next planned for January 30 and 31, and encourages anyone who missed the opportunity for this first vaccination clinic to remain hopeful and eager to sign up for future clinics as they become available," advised O'Brien. She adds the schedule for that two-day clinic will be released next week, "likely on Tuesday."
Details on how those without internet access can get a appointments are below.
Update at 10:20 a.m.: After inquiries by Clarke Broadcasting regarding a number for those 75 and older without internet access to call and make vaccine appointments, Adventist Health Sonora Communication Manager Karen O'Brien replied, "The clinic is nearly full. Area 12 Agency on Aging has been assisting seniors unable to access the website or scheduling form. However, they are running at full capacity fielding these phone calls. We are grateful for the community's eagerness to be vaccinated and we appreciate their patience as we work to provide a limited number of vaccines to those 75 and older. We will be coordinating ongoing vaccination clinics so our hope is that people will not be dismayed, but eager to sign up for future clinics as they become available."
We then contacted the Area 12 Agency on Aging who tell us they have been inundated with phone calls since 6:30 a.m. from people wanting help setting up appointments. They add ONLY those 75 and older without internet access will be helped setting up appointments, which they say are going fast with just appoints available for Sunday afternoon left.  Of note, the agency is asking that people trying to cancel set up appointment not call them, as they can not cancel appointments. Their number is (209) 532-6272.
Original post at 7:15 p.m. Tuesday: Sonora, CA — Adventist Health Sonora (AHS)  launches Phase 1B COVID-19 vaccinations in Tuolumne County this weekend.
The free mass vaccinations at the Mother Lode Fairgrounds on Stockton Street in Sonora will be for those 75 and older, which involves about 6,000 individuals in that age range, as first reported here last week. The clinics are scheduled for Saturday, January 23, and Sunday, January 24, by appointment only. In the written release, hospital officials relayed, "Adventist Health Sonora plans to launch additional vaccination clinics for priority groups, as outlined by the California Department of Public Health, with clinics for the 65 to 74 age group to be provided next. Once all Tuolumne County residents eligible for Phase 1B vaccinations have had the opportunity to receive the vaccine, and as the supply of vaccine increases, clinics will then be available for Phase 1C."
President of Adventist Health Sonora Michelle Fuentes further explains, "We appreciate everyone's patience as we work to provide a limited supply of vaccines to those eligible. Our team is working incredibly hard to coordinate these clinics, vaccinate our population and protect our community."
The release also recommends that those concerned about allergic reactions or side effects from the vaccine should talk to their primary care provider regarding whether or not they should receive it. Hospital officials acknowledged the state's recent advisement to pause administration of Lot 041L20A of the Moderna vaccine due to a higher-than-usual number of allergic reactions, as reported here. The state reported that fewer than 10 people in San Diego required medical attention over the span of 24 hours. AHS adds that it does not have any supply of this specific lot number and follows specific guidelines for administering COVID-19 vaccines, including monitoring patients for 15 to 30 minutes for allergic reactions after the injection.
More information and appointments for Adventist Health Sonora's vaccination clinics are available by clicking here.