Update: Natural Bridges Trail To Temporarily Close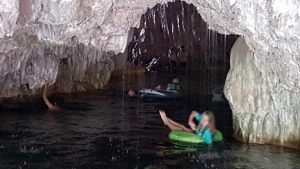 Natural Bridges visitors swimming and floating

View Photo
Update at 3:15 p.m.: On Saturday (August 22),  the Bureau of Reclamation announced the temporary closure of Natural Bridges Trail at New Melones Lake citing that the Calaveras County Sheriff had requested it due to wildfire concerns, see below story. Clarke Broadcasting reached out to the sheriff's department for a response and further clarification. This afternoon, Sheriff's spokesperson Sgt. Greg Stark gave these comments in regards to the closure.
"This is an historic fire season for California with several major fires actively burning, including two of the largest fires in California history.   The Sheriff routinely  works closely with local fire departments to ensure the highest level of safety for the citizens of Calaveras County.  
Due to 3 CAL Fire and 2 local resource strike teams out of county on fires throughout the state, the county was left with minimal resources.  The Sheriff recommended the temporary closure of Natural Bridges to ease the pressure on local fire, EMS and law enforcement.  The BOR agreed with the Sheriff's recommendation and closed the area to ease the impact on local resources."
Sgt. Stark detailed that BOR contracts with the sheriff's office to provide law enforcement/security on their lands in the county, including Natural Bridges. He adds,  "No funding is taken out of the county's general fund. All costs are covered by BOR."
The BOR has not yet responded to our request for comment.
Original post at 6:57 p.m. Saturday: Sonora, CA — Those planning on hiking the Natural Bridges Trail at New Melones Lake tomorrow will find it closed.
The Bureau Of Reclamation (BOR) has report it will temporarily close the trail beginning Sunday, August 23 until further notice. In a written press release, Bureau spokesperson Mary Lee Knecht gave this reason for the closure, "The Calaveras County Sheriff's Office has requested the closure due to limited resources of emergency services for this unprecedented fire season."
There is no word on how long this closure will last. Clarke Broadcasting tried to contacted Knecht, but has not yet heard back. The sheriff's office responded to a text and is awaiting a further response.
The popular trail reopened in June after being shut down due to the COVID-19 pandemic, as reported here.
The natural attraction has been drawing a huge number of visitors since it reopened with more vehicles parked along Parrotts Ferry Road causing traffic problems. Also, last month, after several rescues had to be made due to injuries at the trail and access to the area was limited. As reported here, the sheriff's office worked out a deal with BOR where the bureau agreed to provide access through a combination-locked gate to a fire emergency route using an old stagecoach path off Parrotts Ferry Road to get to victims faster.