Update: Walker Fire Reaches 70-Percent Containment, Acreage Grows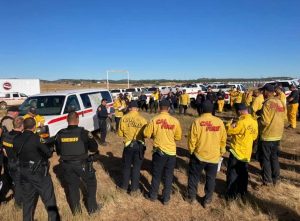 Walker Fire Morning Briefing

View Photo
Update at 6:45 p.m.:  The Walker Fire is now 70-percent contained, but the acreage has climbed. The fire's size is now 1,455 acres, up from 1,100. CAL Fire spokesperson Emily Kilgore reports the increase is due to more accurate mapping of the blaze. She adds that, luckily, firefighters were not impacted by today's Red Flag
conditions. Kilgore details that overnight firefighters will continue to build and reinforce firelines on the eastern
side of the fire.
Two outbuildings were destroyed in the fire, but at this time no structures are threatened. What sparked the blaze remains under investigation. There are currently 800 fire personnel, 37 engines, 8 water tenders, 18 hand crews, and 6 dozers battling the blaze.
Original post at 7:21 a.m. written by BJ Hansen: Sonora, CA — Firefighters built and strengthened the containment line around the Walker Fire outside of Valley Springs in Calaveras County.
CAL Fire spokesperson Emily Kilgore reports this morning that the fire remains 1,100 acres and it is now 50-percent contained.
All earlier evacuation warnings have been lifted. Around 950 firefighters are assigned to the incident this morning. While there were concerns yesterday regarding high winds, Kilgore says the weather cooperated, and they were able to make additional progress extinguishing the blaze.
Resources on scene include 41 engines, six water tenders, eight dozers, 75 overhead personnel, and three helicopters.
Full containment is anticipated by sometime tomorrow (Friday). Day one of the fire was covered here, day two wind was a concern as detailed here, Walker Fire Holds Steady Overnight details are here, full containment was detailed here.