Update: Suspect On The Run Following Alleged Amador County Murder Caught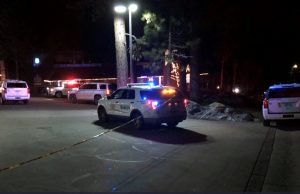 Search For Amador County Murder Suspect

View Photos
Update at 4:25 p.m.: The driver of a ride-sharing company helped in the capture of 20-year-old Sean Purdy, who is a suspect in his father's murder. The son was captured around noon today by Washoe County Sheriff's Deputies just south of Incline Village in Nevada. Sheriff's officials relay that deputies got a tip from an Uber or Lyft driver who picked up Purdy. Further details on his arrest and the murder are below.
At this time, Purdy has only been charged in Nevada with obstructing justice and resisting arrest. 
Update at 1:45 p.m.: Amador County fugitive, 20-year-old Sean Purdy, who was being sought for allegedly murdering his father, has been captured by Washoe County Sheriff's Deputies just south of Incline Village in Nevada.
In a statement, Sheriff Darin Balaam expressed his deep appreciation to all the deputies and investigators from multiple agencies who have tenaciously worked for the safety of the community during the past 12 hours. Additionally, instead of waiting for extradition, Amador County Detectives are heading to the Washoe County Jail to interview Purdy and then will take the necessary steps to bring him back to California.
Further details on Purdy's arrested have not yet been released. No motive or additional details on how the father was killed have been released. The murder investigation remains under the Amador County Sheriff's office jurisdiction and is ongoing.
Reporter Tracey Petersen contributed to this report.
Original post at 11:27 a.m.: Pioneer, CA — A 20-year-old man is suspected of killing his father in Amador County.
52-year-old Lance Purdy was allegedly killed at his Pine Grove home yesterday and 20-year-old Sean Purdy is being sought in connection to the incident. The father had just flown home to check on his son, and officials were notified by the mother, after she was unable to reach her husband.
The Washoe County Sheriff's Office in the Lake Tahoe area reports that Sean Purdy's vehicle was spotted at around 1am today outside a 7-11 in Incline Village, and he took off running when he spotted deputies nearby while exiting the convenience store. An active search is ongoing.