Update: Another Mother Lode Public Safety Power Shutoff Probable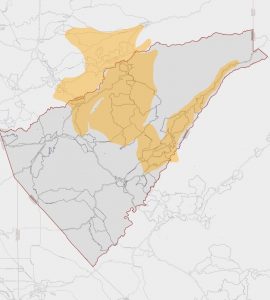 PGE Projected PSPS Map for Oct 23 2019

View Photo
Update at 6:45pm: PG&E officials say the company's operations center continues to watch numerous weather models ahead of making a decision to cut power Wednesday evening due to an incoming high wind event.
PG&E CEO President Bill Johnson carefully fielded a number of tough questions, some laced with stiff criticisms, during a 20-minute media conference call that began at 5:30 p.m. Notably, he advised potentially impacted customers to prepare for 48 hours without electricity, versus a potential five days without power that the utility had recommended ahead of the prior shutoff. He stressed that customers who have not received a notice yet would not be affected.
Insisting that the broadly executed Public Safety Power Shutoff (PSPS) of two weeks ago was necessary to the areas it powered down, he acknowledged that the utility was endeavoring to be more surgical in its timing so that power could be kept on as long as possible in the various affected areas ahead of incoming weather impacts.
When asked whether the company's ability to keep pace with needed tree trimming was increasing the need for PSPS events, Johnson replied that both activities were necessary and not exclusive of each other. He noted that the utility has about 4,500 tree trimmers in the field daily, aggressively cutting back branches and that during wind events, tree limbs have flown some distance outside trim zones into infrastructure.
Update at 5:16pm: PG&E officials are noting a number of improvements they have implemented since its unprecedented power shutoff less than two weeks ago.
For the anticipated Public Safety Power Shutoff (PSPS) scheduled to begin sometime Wednesday evening, customers visiting the utility's website will be redirected to a "special, strength-tested" site that can accommodate high volumes of traffic. It will provide address lookup for affected customers, utility-sponsored Community Resource Center locations as they become available, and other PSPS event-related information. Officials specify that during the PSPS, online services such as energy bill payment will be unavailable until after power has been restored.
In addition, the company's contact center has updated its protocol and abilities to manage increased call volume, prioritizing emergency, outage and PSPS-related inquiries.
On Wednesday, Community Resource Centers that open across the affected areas will provide restrooms, bottled water, electronic-device charging, and air-conditioned seating. The centers will be accessible to customers with functional needs and staffed from 8 a.m. until 6 p.m. until the areas are fully restored to power.
Update at 4:50pm: PG&E officials are releasing more details about another grid power down in the works set to affect 209,000 customer addresses in portions of 15 counties.
While some parts of Calaveras and Amador counties are included, at this point, Tuolumne County is not.
Since Sunday, PG&E's emergency operations center has been monitoring a dry, offshore wind event and on Monday afternoon, began its 48-hour advance notifications to customers about a Public Safety Power Shutoff (PSPS) event that could initiate Wednesday night.
Utility officials say the potential safety shutoff is planned for varying start times, depending on location. Along with portions of Amador and Calaveras, the outage may impact 13 other counties in the Sierra Foothills and the North Bay, including Butte, El Dorado, Lake, Mendocino, Napa, Nevada, Placer, Plumas, San Mateo, Sierra, Sonoma, Sutter, and Yuba. 
A conference call, scheduled for 5:30 p.m., may make more details available.
Original Post at 3:48pm: San Andreas, CA — Calaveras OES officials confirm that another grid power down is in the works this week.
Calaveras County Office of Emergency Services (OES) has been among the agencies participating in conference calls with PG&E today, first at 7:30 a.m. and again around 12:30 p.m. Another call is slated for around 5:30 p.m.
According to the current map (viewable in the image box), Amador and Calaveras counties are within the estimated area. In Calaveras, OES officials say the utility is estimating that the outage if it moves forward as planned, will affect 14,586 customer addresses beginning sometime around 5 p.m. Wednesday.
The forecasted outage area includes the Highway 4 corridor from Murphys nearly up to the Alpine County line as well as the Highway 49 between Highways 12 and 26, and the Highway 26 corridor, impacting the communities of Sheep Ranch, Rail Road Flat, Glencoe, West Point, and Mokelumne Hill.
Currently, those reviewing currently available data on the projected weather conditions are hoping the California Public Utilities Commission (CPUC) and weather officials will be able to give PG&E the "all clear" for powerline inspections to begin by Thursday at 2 p.m. after which affected areas can be powered back up.
We will provide the latest updates as they become available.