Update: Prescribed Burn Today At Crook Ranch Project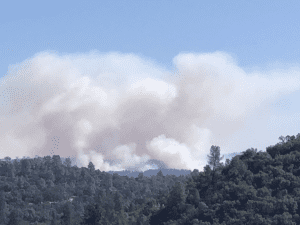 Prescribed Fire At Crook Ranch

View Photos
Update at 4:33pm: CAL Fire officials report crews were able to burn 420 acres near Groveland.
The Crook Ranch Vegetation Management Plan burn activities in the grass and oak woodland near Groveland generated a good deal of visible smoke Monday afternoon, generating calls to the NewsCenter and to CAL Fire dispatch.
Officials now say due to impending weather conditions, the prescribed burn on the Whittle Vegetation Management Plan site west of Angels Camp scheduled for Tuesday and Wednesday has been postponed until further notice.
Officials will continue to closely monitor the weather to determine if they will hold or postpone live-fire training planned for Thursday on the Sardella Ranch in Tuolumne County.
Update at 1:25pm: Yes, conditions are smokier than usual on the Groveland burn but all is under control.
According to CAL fire officials, Columbia Air Attack Copter 404 is assigned to the Crook Ranch prescribed burn project all day. They add that so far assigned crews have burned approximately 200 acres and have about 150 to 200 more to go until it is complete. Officials note that since the smoke is so visible it is generating more calls into its dispatch center and they reiterate to please not call it in as a wildfire.
BJ Hansen posted the following earlier updates.
Update at 11:30am: The prescribed burn at the Crook Ranch project is well underway. As you can see in the photos, smoke is visible nearby. Around 350-400 acres are planned to be burned at the site.
Update at 9:40 am: While burning is taking place today in the Groveland area, tomorrow activity will move to Calaveras County. Tuesday and Wednesday, there will be around 450 acres ignited on the Whittle Vegetation Management Plan site west of Angels Camp along the Fowler Peak Lookout. The prescribed fire will commence at 8am on Tuesday and conclude late Wednesday.
Original story posted at 7:50 am: Groveland, CA — CAL Fire reports that smoke may be visible throughout today in the area around Groveland, Big Oak Flat and Tuolumne.
A planned burn will get underway at 9am at the Crook Ranch Vegetation Management Plan located in the vicinity of Wards Ferry Road. The hope is to burn up to 350 acres today. Numerous firefighting resources will be on scene monitoring the blaze.