Update: Homecoming Pageantry Parades Downtown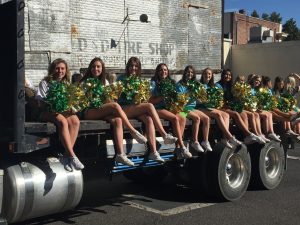 Homecoming Parade Cheerleaders

View Photos
Update 3:28 p.m. The streets of downtown Sonora were closed and became crowded with Sonora High School fans at 2:00pm this afternoon for the Homecoming Parade. Students in the Golden Regiment Band marched down Washington Street and many other students rode on various vehicles. The theme of the four class floats was decades with Seniors choosing the 70's. Juniors decorated with things that recall the 80's, Sophomores the 50's and Freshman chose the future with influence from the movie Back to the Future on their float.
Following the parade the Golden Regiment Band performed in Courthouse Park. Our photos include pictures Wednesday's Air Band Performances as well.
Original 7:26 a.m. The Sonora High School homecoming parade will impact traffic in the downtown area this afternoon.
The police department notes that Washington Street will be closed to all traffic, between Snell Street and Church Street, from 2:20-3pm. Also, School Street will be closed for staging between 1:30-2:20pm.
The parade begins at Sonora High, enters Snell Street and then travels along Washington Street. Immediately after the parade the Golden Regiment Band will perform at Courthouse Park for about 15 minutes. During the performance, Green Street will be closed between Bradford Street and Yaney Avenue.
If you are headed downtown this afternoon you are encouraged to plan ahead, and use alternate routes if not going to the parade.