Update: 55 Without Power Along Highway 49 Near Tuttletown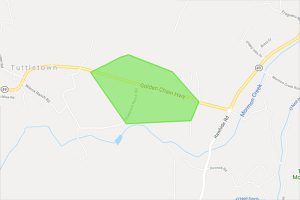 GE map of Tuttletown area outage

View Photos
Update at 2:30 p.m.: The 25 remaining PG&E customers without power in the Tuttletown area due to a sedan striking a power pole in that area this morning will have to wait several more hours before their electricity will be restored. The utility has posted a new estimated repair time of 6 p.m. 
Update at 12:45 p.m.: PG&E has pushed back the repair time for the remaining 25 out of the original 55 customers without power in the area of Highway 49 near Tuttletown as earlier this morning a sedan struck a power pole in that area. The restoration time for those final customers has been moved back to 1 p.m.
Original post at 8:20 a.m.: Tuolumne County, CA — PG&E reports that a vehicle striking a power pole has resulted in 55 customers losing power in Tuolumne County.
The CHP notes that the crash occurred around 6:30am on Highway 49 near Rawhide Road. The pole was severed at the base after it was hit by a sedan. The pole was then hanging by the wires. PG&E arrived on scene at around 7:30am, and the power was cut at 7:40am.
The hope is to have repairs made, and the power restored, by 11:15am. It is not immediately clear if anyone was injured in the incident.