Ebbetts & Sonora Passes OPEN … Tioga Still CLOSED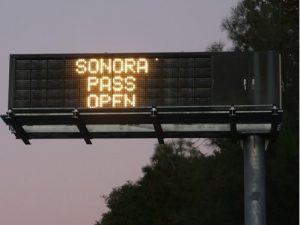 Sonora Pass Sign

View Photos
Sonora, CA — According to Caltrans, Ebbetts (Hwy 4) and Sonora (Hwy 108) are both open this Thanksgiving morning while Tioga (Hwy 120) remains closed.
A reminder from the C.H.P., drive within the speed limit, buckle up and if you're celebrating the Thanksgiving Day weekend with spirits, make sure you have a "designated" driver.
33 people were killed in California over the Thanksgiving Day weekend just a year ago. Already this year 20 people have perished in Tuolumne County traffic related accidents … 13 in Calaveras County.
Written by bill.johnson@mlode.com