T.N.T. Scores Another Drug Bust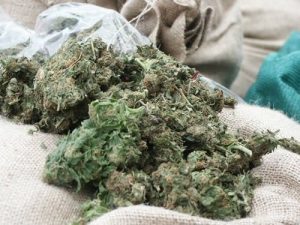 Marijuana

View Photos
Sonora, CA — The Tuolumne Narcotics Team (Sheriff's Office) scored another bust Tuesday by eradicating approximately 1,600 marijuana plants.
According to Sgt. Craig Davis the grow was located in the Priest-Coulterville area on Bureau of Land Management (BLM) property. Davis adds there was plenty of evidence (notes, food wrapers, etc) to indicate the grow was controlled by the Mexican Drug Trafficking Cartel.
Davis also noted that some of the marijuana had already been harvested. None of the Mexican nationals were on site when deputies arrived. Approximate value of the eradicated plants; $3,200,000.
T.N.T. encourages the public when camping or hiking to contact the Sheriff's Office (533-5815) if they witness any type of marijuana operation. That would include the plants themselves, hose lines for irrigation, food wrapers, fertilizer bags and/or weapons.