Excessive Heat Withers Plans For Youth Track Meet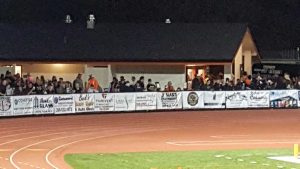 Summerville Track

View Photo
Sonora, CA — A popular annual summer recreation event will not be held this year due to dangerous heat conditions and related concerns for attendees.
After consulting with Tuolumne County Health Officer Dr. Bob Bernstein, Recreation Manager Eric Aitken tells Clarke Broadcasting that his office has canceled the Youth Track Meet that was rescheduled for tonight at Summerville High.
Shortly before 2 p.m. as local temperatures exceeded 102 degrees Fahrenheit, reflecting a high heat index on the border of danger and extreme danger, officials noted the need to altogether call off the meet for this year.
The free and open to the public family-fun event generally attracts over 100 runners, jumpers, and throwers with participants ranging from 1 to 14 years of age, along with the spectators who attend to cheer them on. Among the attractions are field games and face painting, along with available snack bar foods that can serve as dinner.
Aitken notes that the Tuolumne County Recreation Department does offer a wide array of summer activities ranging from sports and swimming to art, striving to create community through people, parks, and programs.