PG&E Reports Status Of Its Wildfire Safety Improvements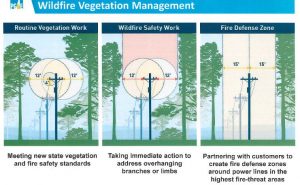 PGE Wildfire Management Graphic Oct 2018

View Photo
San Francisco, CA – In its latest public update, PG&E officials say the utility's wildfire safety program is making strides but there is still plenty to do.
"Our system is better today than it was yesterday, and it will be better tomorrow than it is today," states Sumeet Singh, vice-president of the PG&E Community Wildfire Safety Program. Singh further stressed the company's commitment to further reduce wildfire risks and help keep its customers and service area communities safe.
As of June 22, officials report that crews have conducted visual inspections of 96 percent and aerial inspections of 92 percent of approximately 50,000 transmission structures in high fire-risk areas. This includes inspections of all 222 substations in these places and nearly all the nearly 700,000 distribution poles in and around them.
Since June 1 and through the end of October, PG&E is flying daily aerial fire detection patrols across its service area to assist the U.S. Forest Service, CAL Fire and local fire agencies with early fire detection and response. Depending on conditions, seven planes fly daily routes from late afternoon until dusk, when wildfires are most likely to start. Four PG&E heavy-duty helicopters are also available to CAL Fire as needed.
More Technology, Vegetation Management, Safety Infrastructure   
The utility has also recently upgraded the technology and facility at its 24/7 Wildfire Safety Operations Center (WSOC), which opened last year at its San Francisco headquarters. Officials report the company has installed 231 more weather stations for a total of 430 since last year. Plans are to have 600 in place by the end of 2019 and 1,300 by 2022. Other goals include installing 100 high-definition wildfire cameras by the end of the year of which 31 are already in place. By 2022, officials say 600 such units will be online.
Enhanced vegetation management operations seem to be tracking to plan. The company's 2019 forecast is to prune or remove approximately 375,000 trees along approximately 2,500 miles of distribution lines. As of June 22, more than half of the line miles have been inspected and 20 percent of them were cleared.
Other efforts involve installing stronger and more resilient poles and covered power lines in high fire-threat areas and creating pilot resilience zones, the first of which is under construction in Angwin, located in Napa County.
The first Public Safety Power Shutoff (PSPS) took place last month. Installation continues of remote-functioning reclosers in high wildfire risk areas, which the utility says will help isolate and minimize the scope of PSPS events by sectionalizing grid portions of impacted areas. PSPS outreach efforts still underway include open houses and workshops. To be informed of PSPS events, customers can make sure their contact information is updated here.