Prescribed Burn Project Underway Near Groveland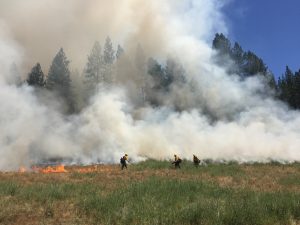 China Understory Project In Stanislaus National Forest

View Photos
Groveland, CA — Forest Service officials were able to burn around 40 acres yesterday at the China Ridge Understory project near the Groveland Ranger District Office in the Stanislaus National Forest.
The project area follows the China Ridge south to Greeley Hill Road. Forest Service firefighters are hoping to take advantage of higher humidity levels, and lower temperatures, over the next several days, and continue burning. The plan is to ignite 70-120 acres per day, with low intensity fire, conditions permitting. The Forest Service notes that there is no need to report the smoke as a wildland fire.
Over the next five years, the Forest Service hopes to burn 1,905 acres in that area.
The public benefits are to reduce forest fuels, improve firefighter capabilities and to reduce the impacts of large uncontrolled fires.