Forest Visitors Abandon Over 40 Potential Wildfire Ignition Points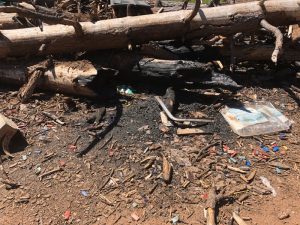 Abandoned campfire without proper clearance over July 4th holiday 2019

View Photo
Sonora, CA – Over last week's July Fourth holiday, Stanislaus National Forest officials report that fire and recreation staff extinguished 42 abandoned campfires.
Noting the obvious, rangers say any of the abandoned campfires, if left unfound, could have been the cause of a wildfire. It is also a requirement for all forest visitors in California who make campfires to hold a valid California Campfire Permit. Permit holders are expected to know how to properly build, maintain and extinguish these fires as well as when to refrain due to conditions. The current fine for a campfire violation on the Stanislaus National Forest is $380.
Along with snuffing the campfires, rangers report that personnel also picked up about 100 bags of trash. Besides creating an unsightly, terrible smelling mess, refuse left on the forest poses a harmful and potentially deadly threat to local wildlife and natural resources.
Officials stress there is a $150 fine for those caught failing to properly dispose of all rubbish, garbage, including any paper, cans, and bottles, along with sewage, wastewater and other waste material. This means if trash receptacles or places are unavailable, especially in remote locations, if you packed it in, you are required to pack It back out.