Update: Vegetation Fire Assist In Stanislaus County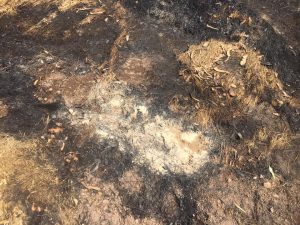 CAL Fire photo Ashes from a campfire not properly put out and sparked the Point Fire

View Photos
Update at 7 p.m.: CAL Fire has determined a cause for the five acre Point Fire in the Woodward Reservoir area, north of Oakdale off Highway 108 around 2 p.m. Ashes found at the scene and pictured in the image box point to recreators. CAL Fire spokesperson Emily Kilgore details, "Improperly disposed of BBQ ashes. This is a reminder, all ashes, coals, and briquettes must be cold to the touch. To achieve this drown, stir and fill them with water and make sure your fire is 'dead out' [no smoke or embers] before leaving."
Further details can be viewed below.
Update at 2:20 p.m.: CAL Fire spokesperson Emily Kilgore reports that the Point Fire's forward rate of spread has been stopped at about five acres. Crews will remain on scene until full containment and mopping up for the next couple of hours. What ignited the blaze is under investigation. Further details on the fire are below.
Original post at 2 p.m.: Oakdale, CA — Columbia aircraft and ground crews are assisting in battling a two acre fire in the vicinity of Woodward Reservoir, north of Oakdale, at what is called the "Woodward Point Y."
CAL Fire spokesperson Emily Kilgore reports the flames are burning at a moderate rate of spread. She adds that the fire it is on the back side of the reservoir in the area of Eastman and 26 Mile roads in Stanislaus County. It has been dubbed the "Point Fire" by CAL Fire. We'll bring you more details as soon as they come into the newsroom.