Update: Vegetation Fire Near New Melones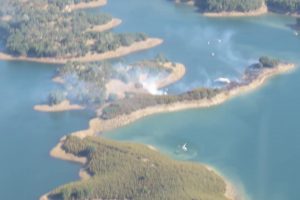 The Rawhide Fire in New Melones Lake

View Photos
Update at 7: 15 p.m.: Using a helicopter and a boat firefighters were able to access the Rawhide Fire and put out the flames at just over an acre. CAL Fire air and ground resources have contained the vegetation fire in the Long Gulch area of New Melones. The fire was on a peninsula in the lake making access difficult, according to spokesperson Emily Kilgore. She relays that crews were flown in by helicopter 404 from the Columbia Air Attack Base and taken by a Bureau of Reclamation boat from the Tuttletown Launch Ramp to the area to battle the blaze.
Update at 6 p.m.:  CAL Fire spokesperson Emily Kilgore details that a helicopter remains on the scene of the dubbed the "Rawhide Fire" checking for any hotspots as ground crews are making their way into the brush fire burning on a peninsula in New Melones Lake. Crews are expected to work on this blaze into the night as it is hard to reach by ground, according to Kilgore.
Update at 4:55 p.m.: CAL Fire spokesperson Emily Kilgore reports that the blaze is a half acre on a peninsula of New Melones Lake, which is making it hard for firefighters to reach, but aircraft are working on the half acre flames from above.
Original post at 4:30 p.m.: Jamestown, CA — Columbia aircraft are once again in the skies and ground crews are heading to a report of a vegetation fire — this is the fourth one this afternoon in three separate counties.
Firefighters are responding to the report of a vegetation fire near the south end of New Malones Lake in the 8600 Block Old Melones Dam Road near Shell Road in the Jamestown area. We will bring you further details as soon as they come into the newsroom.