Sonora High Football Hopes To Move Past Adversity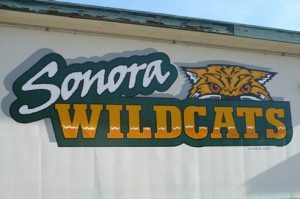 Sonora High School

View Photos
Sonora, CA — The Sonora High School football team has dealt with adversity over recent weeks, and school officials are looking ahead. Head Coach Bryan Craig was interviewed by Wildcats play-by-play announcer Justin Flores during the Star 92.7 pregame show leading up to Friday's football game.

"My focus is on the 37 kids that have been working hard," stated Coach Craig. "Any suspensions or any things like that which have happened are done."

Flores later announced in the broadcast that sources have confirmed that Nate Gray and Austin Thoburn are no longer with the team. 18-year-old Gray was arrested in connection to an alleged bar fight in Mi-Wuk Village on October 10th, and 18-year-old Thoburn was arrested following an alleged DUI accident on Racetrack Road on October 18th.
An unidentified juvenile football player, who was also reportedly involved in the October 10 bar fight, was not in the lineup Friday night but was with the team.
Sonora Union High School Superintendent Dr. Mike McCoy was the halftime guest on the radio broadcast and talked about student disciplinary procedures.
"The coaching staff, school administration, district administration and school board have been looking at our policies in light of a couple of unfortunate events that occurred over the last couple of weeks," stated Dr. McCoy. "We've had to use our Athletic Code of Conduct as a measuring stick to determine what academic and/or athletic sanctions would be levied against students that could have been in violation of the Code of Conduct."
Dr. McCoy declined to go into detail about the individual cases, but stressed the important role of parents, pastors, neighbors, grandparents, and other mentors in guiding the youth of the community. "They are all important in young people's lives, so we all have a responsibility to make sure that youth do the right things at home, in the community and at school," McCoy said.
When it came to the action on the field, Sonora High was not able to keep up with Sierra Friday evening. The final score was 28-7.