Red Church Emergency Shelter?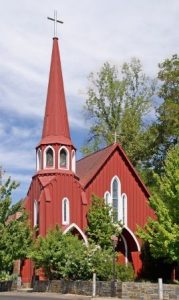 Sonora's historic landmark Red Church

View Photos
Sonora, CA — The group Lighthouse Ministries is hoping to use a portion of the parish hall behind Sonora's historic Red Church as a cold weather emergency shelter.
The Sonora Planning Commission will decide whether to issue a Use Permit Tuesday evening. The proposal is to allow shelter for up to 15 men.
"City staff has recommended denying the application without prejudice," says Ed Wyllie, Community Development Director for the City of Sonora. "We received some input from neighboring property owners, and in particular we received a memo from the Chief of Police, that expresses some concerns with respect to the operation of a shelter at that location."
Wyllie says he would like to see the organization study the idea further before he would be comfortable making a recommendation for approval.
Lighthouse Ministries is a non-profit Christian organization that provides services to poor and homeless residents of the county.
The property is located at 42 Snell Street. Tuesday's Planning Commission meeting begins at 7pm at Sonora City Hall.
Written by bjhansen@mlode.com.