Forest Section Torn Up By Off Highway Vehicles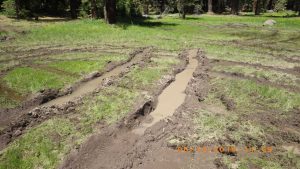 Damage done near Bell Meadow in the Stanislaus National Forest

View Photos
Tuolumne County, CA – As can be seem in the image box photos, deep ruts slashed across a section of ground near Bell Meadow in the Stanislaus National Forest, southeast of Pinecrest Lake, were left behind by ATVs, forcing its closure this weekend.
Forest patrols recently found tire tracks across a section of land the size of about a football field on the Summit Ranger District that severely impacted the sensitive meadow area. Calling it "an example of bad visitor behavior," Forest spokesperson Diana Fredlund relays, "Unfortunately, the damage is so significant that we have to repair it before anybody comes in because it will just make it worse and worse."
Fredlund adds that the Off Highway Vehicles (OHV) drivers "disrespect for the land" means the area has been closed to visitors and repairs could last into next week. With the snow still melting in forest areas just beginning to open for summer recreation, Fredlund wants to remind OHVs drivers, including ATVs, motorcycles, side by sides, and 4×4 vehicles, to travel on designated routes and trails.  A map of those can be found by clicking here.
Forest officials provided these TREAD LIGHTLY principles to OHV users:
T – Travel Responsibly
R – Respect the Rights of Others
E – Educate Yourself
A – Avoid Sensitive AreasD – Do Your Part
If visitors see damage in the forest they are asked to contact forest officials at the numbers below, so it can be repaired quickly.
Stanislaus NF Supervisor's Office:  209-532-3671
Calaveras Ranger District:  209-795-1381
Groveland Ranger District 209-962-7825
Summit Ranger District at 209-965-3434