Poll Shows Desire For Action On Housing, Homelessness And Vaccinations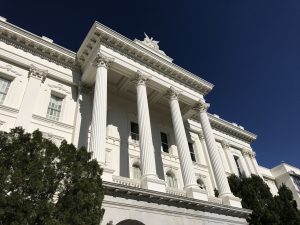 California State Capitol Building

View Photo
Sacramento, CA — A new Public Policy Institute Of California Poll shows support for actions designed to increase housing in California.
When asked if the state should reduce CEQA regulations, 47-percent were in favor, 30-opposed and 24-percent didn't know. On the topic of Governor Gavin Newsom's proposal to require local governments to approve new housing projects before receiving new transportation funding, 61-percent were in favor, 31-percent opposed and 8-percent didn't know. On the matter of requiring local governments to allow apartments buildings to be allowed in single family zoning areas, if it is near a transit hub or job center, 62-percent were in favor, 30-percent opposed and 8-percent didn't know.
In addition, 52-percent stated that housing costs place a financial strain on their family.
Other findings from the poll include that 73-percent feel that childhood vaccinations should be required, 74-percent approve of Governor Newsom's plan to spend $1-billion to address homelessness and 41-percent are afraid of rising electricity bills due to do wildfire damage costs.
Asked about general approval of Governor Newsom, 45-percent feel he is doing a good job, 29-percent disapprove of his performance and 26-percent don't know.