Freezing Temperatures Could Break Water Pipes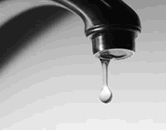 Water

View Photos
Sonora, CA — The National Weather Service is predicting temperatures may drop into the mid 20's in the Mother Lode region by Tuesday morning. Tuolumne Utilities District (TUD) wants residents to be prepared for the freezing temperatures by making sure that your home and property are properly prepared.
TUD General Manager Pete Kampa states "Taking time now to do some preventative measures can save water, customer's money and inconvenience should their pipes freeze."
Kampa urges customers to not keep their faucets running. If faucets are left running it lowers the water supply in the District's water storage tanks.
To prevent freezing, TUD recommends wrapping pipes in insulated material. Pipes should also be covered with plastic and secured with tape, string or wire. Garden hoses should be disconnected, and store some water just in case a main break or frozen pipe cuts off your water supply.
It is a good idea to know and inform family members where your main water shut-off valve is located. If a pipe does break, damage can be minimized by turning off the main valve. It is commonly located next to the meter, in the garage, or outdoors by the home's foundation.
For more information visit the TUD website at www.tudwater.com