8th Annual Yosemite Facelift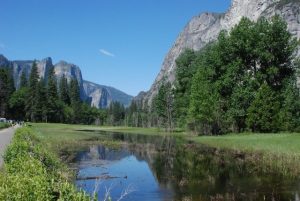 Yosemite National Park

View Photos
Yosemite Valley, CA– The 8th annual "Yosemite Facelift" is happening this week at Yosemite National Park.
In partnership with Yosemite and the Yosemite Climbing Association, this event, Wednesday, September 21st through Sunday, September 25th, is a day to help clean up the park after the busy summer season.
Volunteers are needed to help pick up litter at various locations including roadways, in the river corridor, on trails, near climbing routes, and in parking, camping, and lodging areas. Events and presentations honoring Yosemite's climbing history will be held throughout the weekend.
Last year, over 1,000 Yosemite Facelift volunteers collected 172,307 pounds of trash, with over 140,000 pounds of it being old asphalt and concrete. Over 80 percent of the trash collected was recycled. More than 160 miles of roadway were cleaned, as well as over 100 miles of trails and 20 miles of river corridor.
Interested volunteers should sign up at the booth in front of the Yosemite Valley Visitor Center from 8:00 a.m. to 4:00 p.m. Wednesday through Sunday.
For more information visit the Yosemite Climbing Association website at http://www.yosemiteclimbing.org.
Written by tina.falco@mlode.com