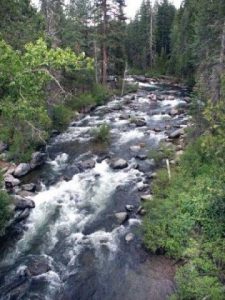 Stanislaus River

View Photos
Sonora, CA — Tuolumne Utilities District General Manager Pete Kampa says the latest draft of the proposed plan to restore the Delta should have T.U.D customers worried.
The Delta Stewardship Council was formed in 2009 with a stated goal of balancing the demand for water and improving the habitat of the Sacramento-San Joaquin Delta. On Thursday the Council released the fifth draft of its Delta Restoration plan.
"A major concern is that it would transfer the control of many decisions made related to water from the local entity (T.U.D.), to the state of California," says Kampa. "The Delta Stewardship Council would be able to make decisions, and have appeals authority, on most any project that we would initiate here."
"We'd have to run every project that we do through another level of review, to determine its consistency with the Delta Plan," Kampa adds.

Kampa says the state has decided that T.U.D. is a "Delta beneficiary," so customers would be subject to new fees. He notes that T.U.D. would pay a fee for each gallon of water taken out of the South Fork of the Stanislaus River. It is unknown what the actual dollar amount would be. The money would be used for Delta flood protection and habitat restoration.

"It's just a bad plan, and it's all for the benefit of the downstream areas," says Kampa. "It primarily helps the Delta region, and the export areas of Southern California, at our rate-payers expense."

The plan also calls for a significant reduction in water supply over the next decade, so conservation measures could be implemented.

Kampa notes that he is working with a coalition that will propose alternate language to the plan, with hopes that changes will be made before implementation. There is a review period for comments, and the plan must be completed by the end of December.

For a link to the 243 page draft click here.