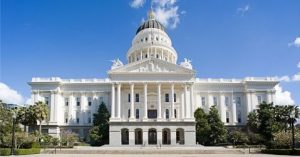 California State Capitol

View Photos
Sacramento, CA — The Senate and the Assembly have passed a new budget for California.
Democrats passed a plan with a party line vote that does not call for a special election regarding the extension of temporary tax increases. Governor Jerry Brown could not get the needed handful of Republicans in support.
Republican lawmakers felt the budget was thrown together quickly and will not hold up over the coming months. Education, public safety and the courts take a hit with the revised spending plan.
"Californians deserve an on-time, balanced budget that reflects their priorities, but that's not what this proposal is," says Kristin Olsen, District 25 Assemblywoman. "This budget is only a temporary solution and does nothing to fix California's long-term fiscal health. To get California back on track, we need to right-size government, create jobs, make structural reforms and prioritize public safety and education."
Senate Democratic Leader Darrell Steinberg says, "It's not perfect, but it is progress. And it is progress that was done, unfortunately, without the support of the minority party."
Yesterday was the Constitutional deadline to pass a budget. If not, lawmakers would have forfeited $261 a day in salary and $142 in payments for daily expenses.
One of the four Republicans that had been negotiating with Governor Jerry Brown regarding the extension of the tax extensions is Senator Tom Berryhill. He voiced out against the new budget.
"I want to make it perfectly clear that there were votes, with reforms, to put this (tax vote) in front of the California taxpayers," said Berryhill. "We found out a very interesting thing, that I guess pretty much everybody does know, that the unions in this state are very powerful."
The group of four Republicans had been demanding reforms to the public employee pension system in return for a vote on the tax extensions.
The new budget now awaits the Governor's signature.