Earth Week Ignites Debate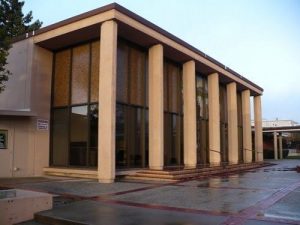 Calaveras County Government Center

View Photos
San Andreas, CA — A request by the Earth Club at Calaveras High School ignited a nearly hour long debate by the Calaveras County Supervisors.
The club requested that April 15-22 be declared "Calaveras Earth Week" in honor of April 22 being international Earth Day. The resolution was brought to the Board with the help of District Five Supervisor Darren Spellman, a former teacher at Calaveras High School. Spellman noted that the high school already celebrates Earth Week and focuses on items like recycling and picking up trash.
Board Chair Tom Tryon took issue with the word, "sustainability" that is included in the resolution. "What it has become a term for, in my opinion, is economic stagnation," says Tryon. "Sustainability is about not having any change, and I don't want economic stagnation, I want economic growth."
Supervisors Merrita Callaway and Steve Wilensky both praised the resolution. Wilensky said he has witnessed the positive work the students have done. He spoke about their recycling efforts and helping with community gardens that provide vegetables to local food banks.
Numerous community members came up to the podium to speak both in favor and against the resolution. Some took issue with the ordinance reading, "Whereas climate change is a clear and present danger to Calaveras County's water supply, plant and animal diversity and agricultural economy." Some felt that Earth Day has a political agenda and is anti-capitalistic.
The students were later praised by the Supervisors for being active and taking time to bring this resolution to their attention.
The final vote to approve the resolution was 3-2, with Supervisors Tryon and Gary Tofanelli in opposition and Supervisors Spellman, Willensky and Callaway in favor.
As a gift for taking time to discuss their issue, the Earth Club brought each of the Supervisors a reusable shopping bag.