Prepare For Possible Flooding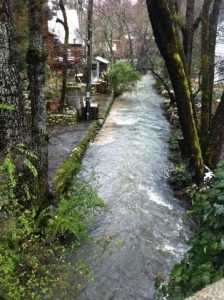 Murphy's Creek

View Photos
Sonora, CA – Sand is now available in both Tuolumne and Calaveras Counties due to the risk of roadway flooding over the coming days.
The next significant storm coming in late Tuesday is expected to be warmer than what passed through over the weekend. The Tuolumne County Public Works Department reports that this could result in quick melting snow and notable roadway flooding.
Sand is available in Tuolumne County at the County Road Department locations in Jamestown and Groveland. There is also sand at the Columbia Airport and in Tuolumne City at the corner of Baker and Birch Streets. Residents are required to supply their own bags for the sand.
In Calaveras County, sand and bags are available at the Government Center in San Andreas, the Road Department locations in Arnold, West Point and Jenny Lind, as well as at the Murphys Fire Station.
There were reports of roadway flooding in the Mother Lode late Sunday afternoon and through the night, but as of this morning there are no major problem areas.