Feds Okay High Speed Rail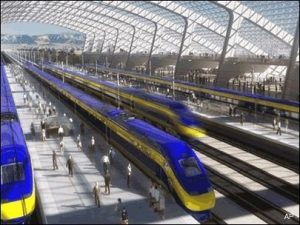 HSR

View Photos
Sacramento, CA — Construction of the first leg of California's High Speed Rail project could begin next year, after plans were cleared by the federal government yesterday.
The initial 65 mile span will run from Merced to Fresno. The Associated Press reports that the Federal Railroad Administration gave the okay after reviewing the proposal to ensure that it is in compliance with numerous federal regulations. The state estimates the total cost of the project, which will connect northern and southern California, to be $68 billion. It will eventually stretch approximately 800 miles.
Construction could still be delayed due to impending lawsuits. Notably, groups representing agriculture interests in the Central Valley have contended that it has not yet gone through the proper environmental review process.