PG&E Sending Dual Advisories As Surprise Storm Coincides With Wildfire Season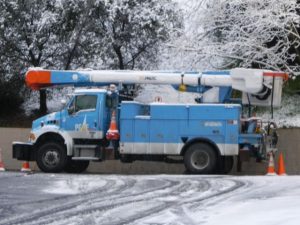 A PG&E truck

View Photos
Sonora, CA — Two separate public outreach efforts may be unintentionally crossing wires as PG&E is alerting customers to simultaneously prepare for possible late season storm related outages and wildfire danger related power shutoffs.
This week, as the utility's meteorologists anticipated that incoming spring storms bringing moderate to heavy rains would affect service areas, the company urged customers to be prepared. Speaking with Clarke Broadcasting, PG&E spokesperson Brandi Merlo explains, "We just remind our customers that it is a little out of the usual to have this kind of weather this time of year."
Among the tips the utility is emphasizing that folks remember is to stay away from downed power lines and immediately call 911. Also, have flashlights, batteries, backup charging for phones at the ready. Merlo suggests freezing water in plastic jugs in advance for fresh drinking water.
Officials also advise customers to secure outdoor furniture and decorative lawn items that when blown by high winds can damage overhead power lines. Unplug or turn off all electrical appliances during an outage to avoid overloading the circuits and prevent fire hazards as power restores. In addition, turn appliances back on one at a time when conditions return to normal.
Planning For Outages Vs. Shutoffs
Coincidentally, beginning this week, many local customers have received emails from PG&E about its Public Safety Power Shutoff Program, which has caused  some confusion as the storm preparation messaging is completely separate. Merlo stresses the latter communication is to alert folks about the potential, moving forward during extreme weather conditions around fire, to be prepared for possible outages related to wildfire danger.
As reported here, back in April the Public Utilities Commission was working with the utility to have it finalize its plans to communicate with customers ahead of power shutoffs.
"We will be looking at weather conditions and other information that is relevant to extreme fire weather and potentially shutting off the power for safety to a portion or all of our electric customers, depending on the weather forecast," Merlo says.
She quickly adds, "Our Power Safety Shutoff Program is not related to the weather that we are experiencing — or the outages we are telling our customers to prepare for this week. During a winter storm such as this that we are experiencing, unless it was for a safety reason, we would not be proactively shutting off the power in this situation."
The PG&E Public Safety Power Shutoff email begins by stating, "Given the growing threat of extreme weather, we want all of our customers to be prepared for power outages. If extreme fire danger conditions threaten a portion of the electric system serving your community, it will be necessary for us to turn off electricity in the interest of public safety."
Power Shutoff Protocol
According to Merlo, before any such shutoff, company officials review a combination of criteria such as predictions of strong winds and very low humidity levels along with critically dry vegetation and on-the-ground observations from field crews. When it makes a decision to turn off power, PG&E will attempt to contact affected customers in advance by phone, text, and email. For that reason, it is important to make sure the utility has your current contact information.
Officials emphasize that since its system relies on regionally integrated power lines, power may shut down even if your area is not directly experiencing high winds or other extreme weather conditions. PG&E planning and protocol in place anticipates visually inspecting systems for damage and restoring power to most customers within 24 to 48 hours after extreme weather has passed.
However, since extreme weather can last several hours or days, PG&E is advising customers to prepare for outages that could last longer than 48 hours. Among its suggestions are: planning for medical needs like medications that require refrigeration or devices that need power; having backup charging methods for phones; keeping hard copies of emergency numbers; maintaining emergency kits with flashlights, fresh batteries, first aid supplies, and cash. It also suggests for customers to know how they can manually open electrically powered garage doors.