Governor Hits The Road For Health Care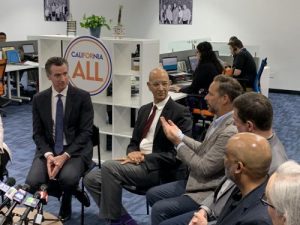 Governor Newsom hosts roundtable in Sacramento with individuals who would receive financial help to afford health coverage under budget proposal

View Photos
Sacramento, CA – Governor Gavin Newsom has launched his "California for All" health care statewide tour to promote his proposals, which he kicked off today in Sacramento.
The plan includes requiring everyone to purchase health insurance and offers subsidies to families of four with incomes up to $150,000 a year. Under current law, individuals earning more than $48,000 a year or a family of four earning more than $98,000 do not qualify for financial help to pay their premiums.
"No state has more at stake on the issue of health care. California must lead," said Governor Newsom. "While the Trump Administration seeks to destroy the Affordable Care Act, California is leading the nation in expanding access to health care and tackling affordability. From fighting for cheaper prescription drugs to increasing access to reproductive health care, California is fighting for more health care for all Californians."
Speaking with small business owners in Sacramento on Tuesday, Newsom outlined his proposal, which would make California the first state in the country to provide subsidies for people who earn up to 600 percent of the federal poverty level. People could get about $100 a month to help pay their health insurance premiums. To pay for his plan, those who do not purchase health insurance would pay a penalty by reinstating the individual mandate in the Affordable Care Act at the state level. That money would be used to pay for the new subsidies.
The governor provided these detail regarding his health care proposal:
California becoming the first state in history to expand Medi-Cal coverage to all eligible undocumented young adults age 19 through 25
Expanding financial help for families and individuals to buy health insurance in private market and becoming the first state in America to give monthly discounts to middle-income families buying insurance
Taking on prescription drug prices by creating one of the nation's biggest single-purchaser systems for prescription drugs that allows government, individuals and potentially private employers to sit together at the bargaining table to negotiate drug prices
Working with Congress to create a robust federal waiver to allow the state to move toward single payer and creating a commission to do the planning necessary for a transition under a Democratic president
While the White House attacks reproductive health care, Governor Newsom proposes making a historic $100 million investment in reproductive and sexual health care.