Sonora Police Still Awaiting Case Details Involving Child's 'Suspicious' Death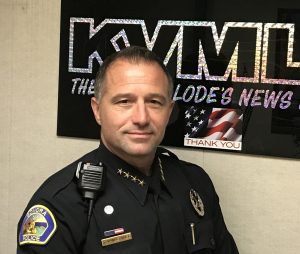 SPD Chief Turu VanderWiel

View Photos
Sonora, CA – Local police officials investigating the circumstances surrounding a child's death are still awaiting official records to help determine if it was suspicious or could be a homicide.
Sonora Police Chief Turu VanderWiel tells Clarke Broadcasting that details circulating around the community about the death of 22-month-old Koltyn Sparks are not official. In fact, he says that his department is still awaiting critical details for the case investigation.
As family members gathered in Courthouse Square downtown on Thursday bearing signs requesting "Justice for Koltyn," the chief confirmed the boy's death on Jan. 15 occurred at UC-Davis Children's Hospital around 3 p.m.. Adventist Health Sonora admitted him in the early hours for flu-like symptoms after which at some point doctors made the decision to have him flown to UC-Davis.
According to the chief, professionals between the two hospitals believed the death to be suspicious in nature and decided to report it. Sonora Police received notification at 9 o'clock that night due to the assumption that the factors leading up to the child's death occurred within the city limits. While police investigators have met with hospital officials and the Stanislaus County Coroner's Office, Chief VanderWiel says there is some conflicting information. "The death is still considered suspicious for now because we are waiting on official details missing: the cause and time of death information and we expect to receive the document soon," he explains.
Circulating Rumors Not Confirmed Facts 
"We did not have firsthand contact with the child in the early stages when these concerns were initially brought up, and cannot confirm any of the medical information that has been shared through the community," he adds.
He says his investigators talked with the mother and another person so far and have not named any suspects. "It is still suspicious rather than a homicide investigation until we get the coroner's report and we are just trying to gain facts and understand more of the timeline leading up to the child's death at this point," he states.
Noting that he has seen his share of tragic deaths, the chief admits, "Anytime it is a child it is that much more tragic. We understand that because all of our officers have family and so it is a little bit more difficult to deal with."
He continues, "So, we do understand that there are a lot of grieving family members and friends who want answers. So we are working with Tuolumne County District Attorney's Office, Calaveras County Child Welfare Services and the Stanislaus County Coroner's Office to ensure a thorough investigation is conducted, and we are going to work hard to find out what really happened here."