Tuolumne County Alters Plan For Economic Development Director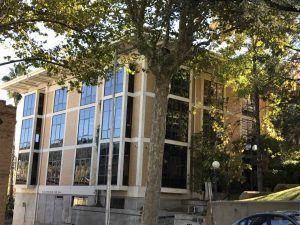 Tuolumne County Government Building

View Photos
Sonora, CA — After having trouble finding an interim Tuolumne County Economic Development Director, the Supervisors will instead move forward recruiting a permanent director.
Rather than hiring someone for just a few months, the county hopes to have the long term person in place by the start of the new fiscal year, July 1st. District Two Supervisor Ryan Campbell commented, "I'm glad that we are talking about a permanent position and not an interim. I think this is the right way to go. We've had some more time to process lessons that we've learned."
The board discussed whether to bring in a contracted person to handle economic development, or create a new county position. The board unanimously supported the option of creating a new position, as the board would have more oversight. The county may also at some time add a secondary position to help the director.
Board Chair Karl Rodefer stated, "Let's hire the right person, get them on board, and then we can talk with them about a project coordinator."
The supervisors also approved a pay range the Economic Development Director position.  It will range between approximately $100,000 to $120,000.