Red-Legged Frogs Making Comeback In Yosemite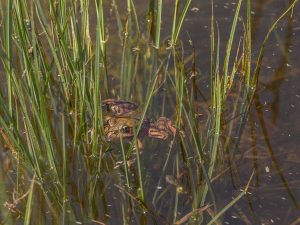 A close-up image of a Red-Legged Frog released in Cooks Meadow in Yosemite Valley

View Photos
Yosemite, CA — After a 50 year absence in Yosemite, a frog species made famous by Mark Twain's "Celebrated Jumping Frog Of Calaveras County," is making a comeback.
The Red-legged Frogs were reintroduced in 2017 thanks to a collaboration between the park, the Yosemite Conservancy, US Fish and Wildlife Service, and others.
Park officials report this morning that they have documented the first breeding by the frogs, in the park, since reintroduction. They were scattered throughout ponds and meadows.
Park Superintendent, Mike Reynolds, says, "It's unusual to find eggs in any location and to find them this soon is a strong indication that red-legged frogs are adapting successfully to the riparian areas where we reintroduced them. This is a major milestone in our work to reestablish a species that contributes to a healthy park ecosystem."
The decline of the red-legged frog population was due to a spike in non-native predatory American Bullfrogs entering the park in the 1970's, along with artificially high populations of raccoons, which are predators of frogs.
Conditions in the ecosystem have reversed in more recent years, increasing the frog's chances of survival. The invasive bullfrogs have been eradicated, and open refuse sites, which attracted raccoons, have been closed.