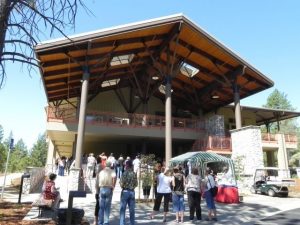 Columbia College's Sugar Pine Building

View Photos
Sonora, CA — A myMotherLode.com poll asked "Should the government's subsidy of student loans be extended?" 54% said no, 44% said yes.
While locally individuals may be against subsidies, nationally the question is not if, but how much.
President Obama and Presumptive GOP presidential candidate Mitt Romney both support extending the lowered 3.4 percent interest rate on subsidized Stafford loans. With subsidized loans, the government pays the loan interest while the student is in school and sometimes for the first six months after they graduate. Proponents of the subsidies note the difficult economy, rising tuition rates, funding cuts and statistics that college graduates have higher incomes and lower unemployment rates.  
The temporary interest rate decrease was passed in 2007 as part of the "College Cost Reduction and Access Act of 2007." The Act gradually decreased the rate from 6.8 percent to 3.4 percent in 2011 and is set to expire on July 1st, 2012.
The cost to extend the 3.4 percent rate for a year is estimated at $6 billion. The House passed the republican version 215 to 195 on April 27th. Thirty republicans who voted against the bill were described by the Associated Press as a "largely conservative GOP class of freshmen." Thirteen democrats voted for the bill, 165 voted against. The bill proposes funding to come out of the  preventive health fund.
Secretary of Education, Arne Duncan stated that 7 million families are expected to take out new loans this fall. Depending on the term of the loan, the average of which is 12 years, the interest rate of 6.4 percent would cost about $1,000 more over the life of a loan. The average amount of debt at graduation is estimated to be $25,250.
For unsubsidized Stafford loans, the interest rate is already 6.8 percent. The increase also will not affect rates for Perkins loans, PLUS loans for parents, consolidation loans, private student loans or loans for graduate students.
The Federal Reserve Bank of New York estimates 37 million Americans have student loan debt. The Federal Reserve estimated in March that student debt stood at $870 billion but other estimates say it has passed $1 trillion.
The Senate has yet to pass a similar bill, they are not expected to address the issue until the end of June. If they do not pass a bill the interest rate will go up June 30th.