Area Businesses Host Events To Get Students 'On The Right Track'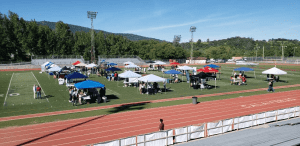 On the Right Track Event 2019 sponsored by the Calaveras County Chamber of Commerce

View Photos
San Andreas, CA — Local high schoolers got to put on training wheels for a day while spending a day in the lanes of adulthood, courtesy of an area business group.
For its second year running, the Calaveras County Chamber of Commerce recently rolled out its "On the Right Track" program at separate events literally held on the running tracks at both Bret Harte and Calaveras high schools.
The offering brings students and the community together for the purpose of easing the future adults into practicing needed skills for successful independence. It also helps them network with the county's essential agencies and local service providers.
Over the course of the daylong event, students were challenged to deal with potential adult life issues such as losing a job and having to find new housing or dealing with estate laws in the event of being left the sole heir of a close relative who just passed away leaving no will.
Students additionally had the chance to "spin the wheel" of life events that might prompt them to access agencies or services for help, such as in the event of marriage, divorce, getting arrested, retirement, going back to school, traveling abroad, experiencing a medical emergency or being recruited for the military.
Tracking For A More Clued In Adulthood
While learning how to get and stay "On the Right Track," students interacted with more than 30 local businesses and agencies that had volunteered to support the event. Among them were banks/financial planners, real estate and insurance offices, communications/technology providers, and a travel agency as well as county government offices and medical centers.
Also on hand were law enforcement agencies and representatives from the US Navy and Army, Columbia College, US Postal Service, hospice, job training, a local water district, Social Security Administration, The Resource Connection and Volunteer Center.
Calaveras Unified School District Superintendent Mark Campbell noted, "This is a fantastic opportunity for the students to learn life skills and gain a greater appreciation for their community. These events also open up potential career opportunities for our students."
Sherri Reusche, a Calaveras Unified School Board member who attended both events, added, "The businesses present just love that they are able to help students get assistance and learn about the things that get taken for granted in everyday life, like how to pay for utilities. This event puts life into perspective."