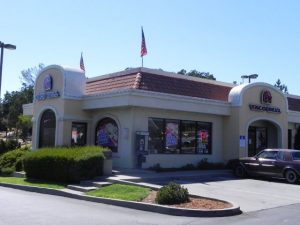 Taco Bell

View Photos
Earlier this week, off duty Tuolumne County Deputy Robert Speers was fueling his personal car at Flyers gas station when he noticed a disturbance occurring between two drivers.

Both drivers were facing each other trying to get through the parking lot with inadequate room to pass. The driver of a lifted 4×4 truck, identified as 24 year old David Garcia of Sonora, began revving his engine at a woman in a small SUV.

When the SUV didn't move, Garcia backed up to allow her to pass while he brandished what appeared to be a stainless steel handgun at the driver.

Garcia attempted to cross Mono Way and drove towards Taco Bell. Deputy Speers ran after the truck showing his badge, and ordered Garcia to stop. Garcia complied and handed the gun to Deputy Speers.

The gun turned out to be an air soft gun that had been modified to appear real. Another occupant in Garcia's truck told Deputy Speers there were real guns in the back seat.

Deputy Speers borrowed a cell phone from a nearby witness and called for back up.

Garcia was arrested and charged with Brandishing a replica firearm, altering the appearance of a replica firearm, and possession of an open container.