Demand And Conflict Trigger Yosemite Camp 4 Changes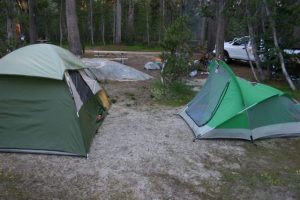 Camping tents

View Photos
Yosemite, CA – Waiting overnight in a long line to possibly be the lucky camper to get an open space at Camp 4 Campground in Yosemite National Park could be a thing of the past.
Acknowledging complications with the current system of first come, first-serve, park spokesperson Jamie Richards details, "There were problems with food storage, people trying to sleep in line, keeping their food with them and attracting bears. There were altercations. There were people that were competing over campsites and it created conflicts between visitors." Whether it ever came to blows, Richards declined to say.
Stemming from those issues, the park is piloting a daily lottery program, like the Half Dome Cables, beginning May 21st. The online lottery, managed by www.recreation.gov, will open at 12:01 a.m. pacific time the day before and remain open until 4:00 p.m. Richards explains everyone will have an equal chance, "It's a one day before lottery and whether you enter the lottery at 1 p.m. or at 3 p.m. on the day before your intended camping night, everyone has an equal opportunity to get a campsite."
Campers that register for the lottery will automatically be matched with the number of open camping spaces. The results from the lottery will be email to all who entered. The goal Richards says, "You won't have to stay in line all day waiting for that one spot to open when someone leaves. So, this actually, we hope, will create more flexibility and improve the overall visitor experience."
This pilot program runs through the summer season and will be evaluated this fall to determine if it will be fully implemented. For more information on Camp 4 Campground, click here.