New Lottery System For Half Dome Permits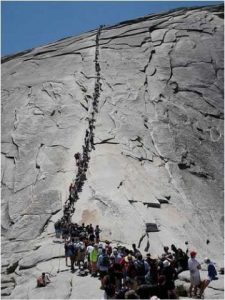 Half Dome Cables

View Photos
Yosemite, CA – Changes in the Half Dome Cable Permit system aim to prevent abuse.
Due to issues with reselling permits, this year a group leader and alternate must be specified when applying. The group leader or alternate must be in the group hiking Half Dome and the names may not be changed once the application is submitted. According to the National Parks Service Website permits will not be transferable and people applying multiple times as trip leader will have all their applications canceled.
Permits will also be required seven days a week.
The new preseason selection process includes a lottery, on Recreation.gov. Names will be collected during the entire month of March for all the days Half Dome is expected to be open, May 25th to October 8th. Groups of up to six may select up to seven dates that they want to climb Half Dome. Applicants will prioritize the dates they are interested in. They will be notified by email in April if they are one of the 300 selected on a day they requested.
In addition to the preseason lottery, a Daily Lottery will be held throughout the time that the Half Dome Cables are up. The daily lottery will be for approximately 50 Half Dome permits, or more, depending on cancellations. An applicant would submit their name at recreation.gov two days prior to the date they want to hike Half Dome and will be notified if selected late that night. (To hike on Saturday, you would apply between midnight and 1pm on Thursday and receive an email notification late on Thursday night.) Results will also be available online, or by phone the next morning.
According to the National Parks website people with wilderness permits that reasonably include Half Dome as part of their itinerary will also receive Half Dome permits upon request and without further competition. Wilderness permits are subject to a quota system.
The lottery information will be available on the recreation.gov website later this winter or call 877-444-6777 from 7 am to 9 pm. A non-refundable fee of $4.50 (online) or $6.50 (by phone) and a $5 per person refundable fee will be collected with each application.
A maximum of 400 hikers will be allowed on the cables (300 day hikers and 100 backpackers) each day. Before the permit system was implemented in 2010, approximately 400 people used the trail on weekdays, and 800 on weekends and holidays.
In a related note, the National Park Service expects to release an Environmental Assessment Plan for the Half Dome Trail Stewardship later this winter. The plan will address trail and cable use and provide options for a permanent management plan for the Half Dome cables.