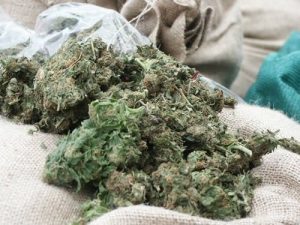 Marijuana

View Photos
A proposal to decriminalize marijuana could once again go before voters in California.
California voted down a similar proposal in 2010. The Secretary Of State's Office has reviewed plans submitted for a new initiative, and has authorized the proponents to begin collecting signatures. They now have 150 days to receive signatures of 504,000 registered voters.
The ballot measure would decriminalize marijuana, calls for criminal records related to marijuana arrests to be erased, and would require that those serving time in jail or prison for non-violent marijuana offenses be released immediately. It also allows minors to receive a prescription/recommendation for marijuana from a doctor.
The paperwork was submitted by marijuana activists Michael Jolson and Berton Duzy.
The Secretary of State's Office has provided a report from the State's Legislative Analyst and Director of Finance. It states that the measure would save California hundreds of millions of dollars annually in court and law enforcement expenses.
If approved, the measure could face legal challenges because it would be different than federal law regarding marijuana use and possession.