Air Rescue In Tuolumne County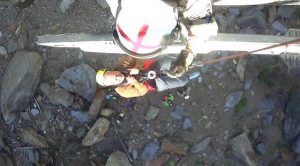 Rescue in the Tuolumne River near the Wards Ferry Bridge
Sonora, CA – A close call for a drowning victim involved in a rafting accident on the Tuolumne River.
The victim had to be given cardiopulmonary resuscitation or CPR before he was flown from the scene after a rafting accident Friday on the river in Tuolumne County. A CHP H40 helicopter was called to the scene near the Wards Ferry Bridge after a request by the sheriff's office to assist in the rescue.
The victim was resuscitated, according to the CHP, due to the quick actions taken by the rafting guides to immediately begin CPR. Pictures and a video in the image box show how the H40 arrived overhead and lowered a hoist down to deputies on the ground. They hooked the victim onto it. The man was then slowly pulled up to the helicopter.
The CHP did not release the victim's name. The man was flown to the Wards Ferry Bridge where  the helicopter landed, so he could be taken by ground ambulance to a local hospital. His condition is unknown.
A special thank you to our community news partner Peggy Sells for sending in the video.