Admitted Vandals Pitch In To Cleanup Forest Graffiti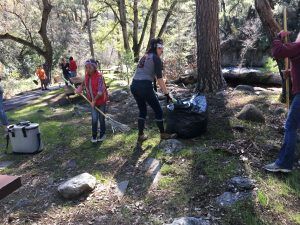 Clean up of vandalism at Riverside Day Use Area
Sonora, CA — Mounting public outcry over the vandalism to a picnic area in the Stanislaus National Forest has reportedly guilted some of the suspects to pitch in.
As earlier reported here today, Tuolumne County Sheriff's officials reported that five juveniles, escorted by their parents, confessed to their involvement in the vandalism at the Riverside Day Use Area in the Basin Creek area, which is east of Tuolumne on Buchanan Mine Road. Sheriff's officials noted that one adult was also identified as a possible suspect. The damage included spray paint on picnic tables, grills and paved walkways, as detailed here with pictures.
This morning, three of those teens, along with their parents, showed up to the site and grabbed some paint brushes then got to work cleaning up the mess, according to Forest spokesperson Diana Fredlund. While talking with some of the nearly 40 volunteers that showed up to help clean up the mess, Fredlund relays, the teens divulged that they were shocked by outrage about the vandalism on social media. She shares, "They were kind of surprised at the amount of attention and the discontent it caused by doing this [vandalism]. They seemed to be very sorry about that."
The vandals are charged with one count by the Forest Service of damaging a natural feature or other property on a national forest, which can carry up to a $250 fine and/or community service, which Fredlund stresses, "Our goal is to come up to some kind of restitution for the damage that was caused."
The cost of the cleanup and damaged to property is more than a $1,000, according to Fredlund. It took a little over three hours to cover up all the graffiti that included racial slurs. Smiling, Fredlund shared that the cleaners even did some yard work, raking leaves, trimming some low limbs on trees and clearing other winter debris.