Law Enforcement Has Basin Creek Vandalism Suspects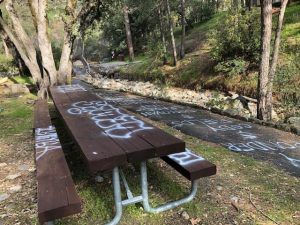 Graffiti at Basin Creek

View Photos
Tuolumne, CA — Five juveniles, accompanied by their parents, spoke with Tuolumne County law enforcement officials about their involvement in the vandalism at the Riverside Day Use Area in the Stanislaus National Forest.
We reported on the incident earlier this week. Sheriff's Office spokesperson, Sgt. Andrea Benson, says the investigation formally began Wednesday morning. "Several picnic tables, a grill, a metal bear-proof recycling and trash container, and paved walkways were spray painted with graffiti, racial slurs, and curse words. Initially, our office received a few tips and information involving a Snapchat video of the vandalism and spoke to several people who may have been the target of the graffiti."
The juveniles were interviewed last night at the sheriff's office, as well as at the Mother Lode Juvenile Detention Center.
Sgt. Benson adds, "Deputies took their statements and forwarded the information to USFS law enforcement. Additionally, one adult was also identified as a possible suspect."
The Forest Service is the lead agency on the investigation because the incident occurred on federal land. No additional information is immediately available.