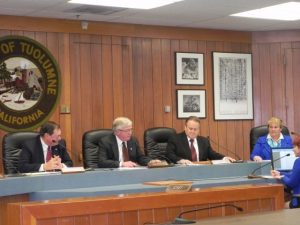 Tuolumne County Board of Supervisors

View Photos
Sonora, CA — Tuolumne County is planning to make repairs to the Jail, which will cost an estimated $600K.
The aging jail has experienced waste and water leaks, mildew issues in the showers, waste line blockages caused by intentional acts of vandalism, and water damage to the basement. The County indicated that it is in a difficult situation because the jail needs to be replaced, but there is not state funding currently available to build the facility.
This week the county Supervisors voted 5-0 to request bids for the removal and replacement of existing waste lines, installation of new exhaust fans and rooftop HVAC units, sealing of new concrete around replaced floor drains, and other work.
Construction costs are estimated to be the ballpark of $372K, and $27K estimated for contingencies. During construction, the county would like to house some inmates at Sierra Conservation Center, which would cost an additional $200K.
Work is slated to begin in early September.