Abandoned Cliffside Watercraft Hauled Away In 'Litter' Cleanup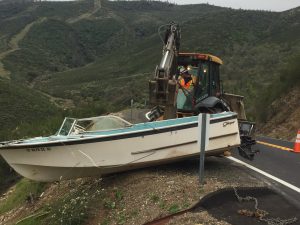 Caltrans removes litter boat abandoned on Hwy 49 Tuolumne County

View Photos
Sonora, CA — While many of us consider roadside trash unsightly garbage or recycling can size leavings, Caltrans reports that one of its crews had to deal with removing a much larger castaway object.
Early Monday along a stretch of Highway 49 in Tuolumne County near Coulterville, Caltrans officials report that one of its crews located a precariously positioned boat on the edge of a cliff. As mysterious as the finding was, officials say that figuring out exactly how to haul it away became the leading brainteaser of the moment. To view images of the heavy equipment-involved removal operation, click into the image box slideshow.
Caltrans reports that roadside litter is the number one complaint motorists make. In addition to the millions of dollars expended to clean up trash within the state highway system, officials stress that litter creates a wide range of serious threats to the environment and human health.
Examples include danger to wildlife caused by plastics in the ecosystem, and damage to roadside landscaping from large discarded debris. Wildfires ignite from burning cigarettes, and runoff from harmful chemicals and biohazards generate watershed pollution. Litter also clogs roadway drainage systems, which leads to highway flooding and water quality impacts.
With Earth Day approaching, officials point out that abandoned boat as a dramatic reminder why it is essential to secure your load when transporting it. In conjunction with Earth Day, over the next two weeks, local and state agencies and community groups plan to clean up roadways, parks, beaches and other public facilities.
While the agency's maintenance crews conduct year-round cleanup, Caltrans uses partnerships to assist with litter removal. In addition to the upcoming Earth Day efforts, the Adopt-A-Highway program saved a recently estimated $17 million in related annual costs. Details of the Caltrans Adopt-A-Highway Program are available by clicking here.