Emergency Officials To Talk About Fire Evacuations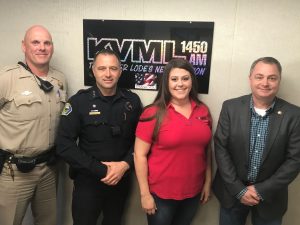 CHP Sgt. Randy Matyshock, Sonora Police Chief Turu VanderWiel, OES Coordinator Liz Peterson and Sheriff Bill Pooley

View Photos
Sonora, CA — Especially in light of the devastating fire in Paradise, California last year, local emergency officials are urging Mother Lode residents to be aware of the various roads, and potential evacuation routes, ahead of the coming fire season.
Some populated subdivisions of the county have only one major road in and out, so it is important to know about any side roads. This weekend's Mother Lode Views will focus on evacuations, and the guest panel will include Tuolumne County Sheriff Bill Pooley, Sonora Police Chief Turu VanderWiel, Tuolumne County Office of Emergency Services Coordinator Liz Peterson and CHP Sgt. Randy Matyshock.
They will talk about what the various levels of evacuations mean, what should be done ahead of fire season, and the challenges of moving a large number of people at one time.
This is the second part of a four part series focused on fire resiliency and preparedness. You can hear last week's show focused on the Tuolumne County Fire Initiative by clicking here.