State Lawmakers Move On Bipartisan Cannabis Market Bills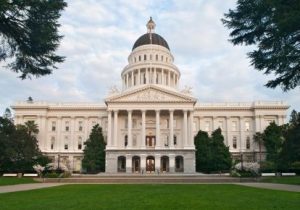 Sacramento Capitol Building

View Photos
Sacramento, CA — Among the latest issues California lawmakers are working on to stabilize the nation's largest legal cannabis marketplace is to close a licensing gap for commercial marijuana growers and get the Feds to legalize CBD oil infused products.
Thousands of legal marijuana cultivators are in or potentially facing a limbo; unable to do business because their temporary licenses are expiring before the state is able to replace them with permanent ones. In a 32-4 vote without debate, the Senate has just passed a bill that would allow temporary license extensions. It now goes to the Assembly, where it is expected to pass.
Meanwhile, state regulators have authorized some provisional licenses. Since voters approved establishing broad legal sales, the licensing and regulatory process that was enacted a little more than a year continues to ripple with rough patches.
The state must also deal with CBD (cannabidiol) oil-infused food, drinks and dietary supplements containing the non-psychoactive molecule that is found in hemp and marijuana cannabis plants. While CBD is the active ingredient in a FDA-approved prescription drug that treats two rare seizure disorders, the agency, which has oversight, considers it illegal. The FDA's current stance is that there is insufficient testing to determine whether CBD is safe or effective for health-benefit seekers to use for other conditions such as pain, anxiety and inflammation. The position is leading some authorities into forcing retailers to cease sales.
So California lawmakers and those in other states are pushing bipartisan legislation to sidestep federal law and allow legal sales. A measure to legalize hemp oil-infused edibles has moved to the State Assembly. Republicans and Democrats in Congress are also urging the Feds to change stance on CBD as they did by delisting hemp from the Schedule 1 drug list.