T.U.D. Concerned About Pinecrest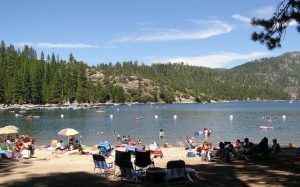 Pinecrest Lake

View Photos
Sonora, CA — The Tuolumne Utilities District is very concerned about water supply heading into the summer months.
It is primarily due to recent state mandates regarding water levels at Pinecrest Lake. T.U.D. receives 95% of its water supply from Pinecrest, and Lyons Reservoir, through an agreement with PG&E. The state is mandating that Pinecrest Lake remain 5,610 ft. above sea level through Labor Day weekend. T.U.D. is requesting more flexibility from the state to deliver water supply. T.U.D. officials say the elevation has traditionally fallen well below 5,610 ft., and it has not had any notable impact on recreational activities.
Hear about the issue, and what T.U.D. officials are asking of the community, on this weekend's Mother Lode Views.
The guests in studio will include Board President Mike Sarno, General Manager Pete Kampa and District Engineer Tom Scesa.