Fowler Family Cancels Press Conference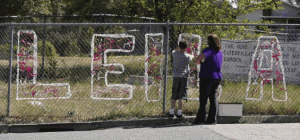 Leila Fowler Tribute

View Photos
Valley Springs, CA — The family of Leila Fowler had planned to speak at a press conference this afternoon at the Calaveras County Sheriff's Office substation in Valley Springs.
Sheriff's Officials confirm that it has now been cancelled. It was the family that initially requested the opportunity to speak to the media and community. When contacted, the father of Leila, and her 12-year-old brother, told the Associated Press that the family is standing behind the 12-year-old boy until they have "proper evidence" to show his son is responsible for Leila's death. Barney Fowler also stated he was thankful for everything the community has done for his daughter.
Leila died on April 27 from multiple stab wounds that she received at her home near Valley Springs. The 12-year-old brother had stated that he chased an intruder out of the home. After a 15 day investigation, the 12-year-old was charged with homicide. The parents said they were attending a little league game at the time of the incident.