Banning Pot Shops Allowed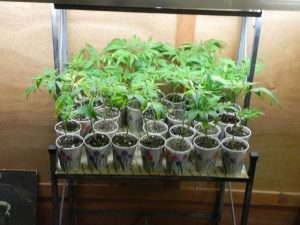 Marijuana Plants

View Photos
San Francisco, CA — California cities and counties can ban pot shops, the California Supreme Court ruled today. The unanimous opinion states neither the state's voter-approved law legalizing medical marijuana nor a companion measure adopted by the Legislature prevents local governments from using their land use and zoning powers to prohibit storefront dispensaries.
The case before the Supreme Court was a ban enacted by the city of Riverside in 2010. Justice Marvin Baxter wrote for the seven-member court, "While some counties and cities might consider themselves well-suited to accommodating medical marijuana dispensaries, conditions in other communities might lead to the reasonable decision that such facilities within their borders, even if carefully sited, well managed, and closely monitored, would present unacceptable local risks and burdens."
According to the Associated Press (AP) about 200 jurisdictions statewide have similar prohibitions on retail pot sales.
In April 2005 Amador County's Board of Supervisors voted to unanimously continue with the county's medical marijuana ordinance which, amongst other things, prohibits the sale or distribution of medical marijuana within 1,000 feet of any residence. The News story "Amador County Supes Keep Medicinal Pot Ordinance As Is" here.
Sonora City Council's moratorium on marijuana dispensaries passed November 2010. The "Medicinal Marijuana Collective Opens Despite Moratorium" story is here. Tuolumne County District Attorney's Office recently dismissed a case against several members of a local collective the news story is here.
The Supreme Court's decision might not be the last word on the issue according to AP. Last summer, a trial judge ruled that Riverside County could not close medical marijuana dispensaries in unincorporated areas because the move did not give the shops any room to operate legally under state law.
An appeals court in Southern California also struck down Los Angeles County's 2-year-old ban on dispensaries, ruling state law allows cooperatives and collectives to grow, store and distribute pot.