Grand Re-Opening Of Pantry & Community Dinner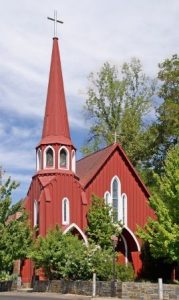 Sonora's historic landmark Red Church

View Photos
New Life Lighthouse Ministry will hold the Grand Re-Opening of the Ministries Pantry and Community Dinner this Tuesday from noon through 1 PM.
Don Sullivan, Board Member of New Life Lighthouse Ministry and community volunteer, was Thursday's KVML "Newmaker of the Day.
Lighthouse Ministries is a non-profit organization (501(c)3) serving the poor and homeless in Tuolumne County. The objective is to not only assist the homeless to get off the street and advance them toward rehabilitation, but to transform their lives in a way that God can offer.
According to Sullivan, the partneship of community churches includes a dozen local churches of various denominations. The St. James Food Pantry (Red Church Annex Building) in Sonora, is used every week to serve around 2,000 individuals each month.
New Life Lighthouse Ministries partnered with the Red Church's Rev Wolfgang "Father Wolf" Krismantis and his wife LaDonn ("Doni") about six years ago to help and assist those in need. Both Father Wolf and his wife died last November in a car accident.
"That is part of the reason that we are holding this Grand Re-Opening," said Sullivan. "We want the community to know that this program has not ended and we want people to come down and see for themselves what we provide. Perhaps some will be interested in donating and/or future volunteer opportunities. "
Everyone in the community is invited this Tuesday March 19th from noon through 1pm for food (bar-b-que hot dogs) conversation and treats.
Sullivan said, "We want to show how we help as many people as possible by providing food, shelter, clothing, education, recreation, and other programs — wrapped in dignity, respect, compassion, and Christian love. Lighthouse Ministry works to make our community a better place for everyone to live."
For more information call (209) 559-5968 or click http://www.newlifelighthouse.org/index.html
The "Newsmaker of the Day" is heard every weekday morning on AM 1450 KVML at 6:47, 7:47 and 8:47AM.