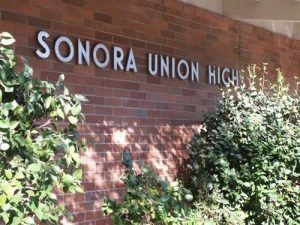 Sonora High School

View Photos
The Republican leader in the California state Senate has authored legislation designed to give school districts more time to issue teacher pink slips.
Senator Bob Huff notes that state law requires district's to send out preliminary notices by March 15, but school districts typically have no idea what next year's budget will look like at that point in time. District's react by overestimating, and send out notices that are later repealed by the time the final notices go out on May 15th. Huff's legislation, SB 559, calls for initial layoff notices to go out on June 1st, and final notices on August 1st.
The proposal is being greeted warmly by Tuolumne County's Superintendent of Schools Joe Silva. "My reaction is very positive, and I think it makes sense," adds Silva. "The state's May revised budget comes out in mid-May, so I would like to see this become law."
Huff's office notes that a Sacramento school district recently sent out 445 pink slips in March, but all of the layoff notices were repealed by July when they had a better understanding of the state's budget. The decision caused a last minute scramble to put teachers back in the classroom, and disrupted learning time for students. Because of the recent state budget issues, often times teachers have been hired back weeks before the new school year, resulting in little preparation time.
It is unknown if the legislation has enough support to pass in Sacramento.